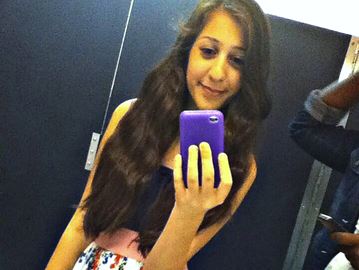 Music triumphs (Supplied photo)
Amanda Kakoz, 13, underwent a double-lung transplant recently, but missed her favorite band,
One Direction, who stopped by Toronto last month for a concert.
Now, her only hope is to connect with them.
BRAMPTON, Ontario— Every breath Amanda Kakoz, 13, takes, she sort of owes it to an organ donor.
Last month, the Brampton teen, underwent a double-lung transplant after battling pneumonia.
Amanda has pulmonary hypertension, a type of high blood pressure affecting the arteries in the lungs and the right side of her heart. When Amanda was a baby, her parents were warned that if medication failed, lung transplantation was the only cure.
Amanda enjoyed playing basketball up until recently when she couldn't shake-off a flu which soon escalated into pneumonia. Distraught parents rushed her to Brampton Civic Hospital (BCH) and from there to Toronto's Hospital For Sick Children (Sick Kids). When her health took a turn for worse, the Brampton teen, found herself on the Trillium Gift of Life Network's (TGLN) organ wait-list.
"When Amanda was placed on the organ wait-list, we were worried because we knew it would be a long road to recovery," said John Kakoz, 58, Amanda's father. "But we had no doubt in our minds that Amanda would find her donor quickly. She was a miracle child as an infant and we knew she would do it again..."
After a month of waiting, a donor finally became available. On July 25, Dr. Thomas Waddell, a well-known thoracic surgeon, performed a double-lung transplant surgery on Amanda from which she's now slowly recovering.
Amanda, who considers herself as the most avowed fan of the English-Irish boy band One Direction, had literally etched the date of the band's tour to Toronto (July 10) into her psyche and cajoled her parents into buying her the tickets. For two years, she talked of nothing else. Then, a week before the concert, she was hospitalized.
"She wanted to come home for just one day so she could see the One Direction concert," Samantha Kakoz, 17, Amanda's older sister said. "She's very upset about missing them. Even now, she only listens to their music in the hospital"
Since the double-lung transplant, the Kakoz family, has pledged to raise awareness about organ donation.
"I know a lot of people who have been on the organ wait-list for years, waiting for a match," said Samantha Kakoz. "When Amanda was seriously ill, not knowing what will happen was the worst thing. I look at organ donation from a different perspective now and see how important organ donors are..."
As of Aug. 22, there are 1,474 sitting on the wait-list for an organ and this includes the 1,033 people in need of kidneys, 72 for heart and 88 for lungs. The Trillium Gift of Life Network (TGLN) data shows there are 2.7 million organ donors in Ontario. Donor registrations however fluctuate widely across Ontario. In the GTA, where rates have traditionally been significantly lower than in the rest of the province, every community has reported an increase over the last three months.
"The increase in donor registrations is encouraging, but we can and must do better," said Ronnie Gavsie, TGLN president and CEO in a press release. "At a 23 per cent registration rate, Ontario sits well below the U.S. registration rate of 45 per cent."
"You Have the Power to Donate Life – Sign-up today! Tell Your Loved Ones of Your Decision"