TRANSPLANT RECIPIENTS TO 'LIGHT UP THE WORLD' ABOARD DONATE LIFE FLOAT IN 2014 ROSE PARADE FLOAT
Riders from 19 States and Taiwan Thank Their Organ, Tissue and Eye Donors
for Life-Saving Gifts on World Stage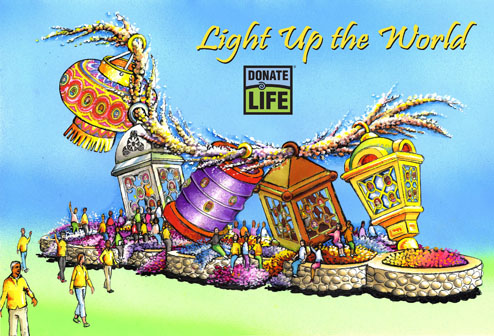 The 2014 Donate Life Rose Parade Float entry features a festival of lanterns illuminating 30 riders all grateful organ and tissue transplant recipients – and 12 living organ donors walking alongside to demonstrate their ongoing vitality. Five enormous lamps are adorned with 72 memorial floragraph portraits of deceased donors whose legacies of life shine brightly. The riders are seated throughout a dedication garden filled with thousands of roses bearing personal messages of love, hope and remembrance.
LOS ANGELES, Calif.
– – Thirty fortunate recipients of organ and tissue transplants will "Light Up the World" with their dramatic and heartrending stories as riders aboard the 11th annual
Donate Life float in the 2014 Rose Parade
, which reaches tens of millions of viewers across the U.S. and worldwide. Each individual was selected by an organization for their courage, service and advocacy in light of the life-saving transplants they received from generous donors.
The 30 riders
range in age from 18 to 77, and hail from 19 states – Arizona, California, Colorado, Florida, Georgia, Illinois, Indiana, Iowa, Michigan Missouri, Nebraska, New Jersey, New York, North Carolina, Oklahoma, Pennsylvania, South Carolina, Texas, and Virginia – and Taiwan. Their lives have been affected by a broad spectrum of challenges and salvations, all connected by one common denominator: the gift of life.
"Our float riders have shown what it means to 'Light Up the World' by virtue of their survival and service to their local communities," reflected Bryan Stewart, chairman of the Donate Life Rose Parade Float Committee and vice president of communications at
OneLegacy
, the nonprofit organ and tissue organization serving the greater Los Angeles area. "We are inspired by the 2014 Rose Parade theme, "Dreams Come True," to spotlight individuals who embody what organ, eye and tissue donation makes possible in the hope that viewers will be inspired to register as donors."
Because the conditions allowing donation to occur are rare, many millions of committed donors are required to help those in need. A single organ donor can save the lives of eight people through organ donation, while a tissue donor can save and heal 50 or more lives through the gifts of heart valves, corneas, skin, bone, and tendons that mend hearts, cure blindness, restore mobility and overcome burns.
"Every single person who takes action to be a donor gives hope to the nearly 120,000 people across America waiting for their dream – a life-saving organ transplant – to come true," said Stewart. "In addition to the lives saved by deceased donors,
approximately 6,000 lives per year are saved by living kidney and liver donors."
The Donate Life Rose Parade Float's family of sponsors urges viewers to help make dreams come true for more than one million people in need of life-saving and healing organ, tissue and cornea transplants. Join America's 113 million registered donors so that everyone whose life and livelihood depends on a transplant can have one. Sign up when renewing your driver's license or by visiting
www.DonateLifeAmerica.org
. Further information about the Donate Life float can be found at
www.donatelifefloat.org
.
The Pasadena Tournament of Roses is a volunteer organization that annually hosts the Rose Parade® presented by Honda, Rose Bowl Game® presented by VIZIO and various associated events. The 125th Rose Parade presented by Honda, themed "Dreams Come True," will take place

Wednesday, Jan. 1, 2014

, at

8 a.m. (PST)

featuring majestic floral floats, high-stepping equestrian units and spirited marching bands. Following the parade, the 100th Rose Bowl Game presented by VIZIO will kick off at

2:10 p.m.

and feature an exciting match-up between two of the top collegiate football teams in the nation. For additional information on the Tournament of Roses please visit the official website at
www.tournamentofroses.com
.
"You Have the Power to Donate Life – Sign-up today! Tell Your Loved Ones of Your Decision"